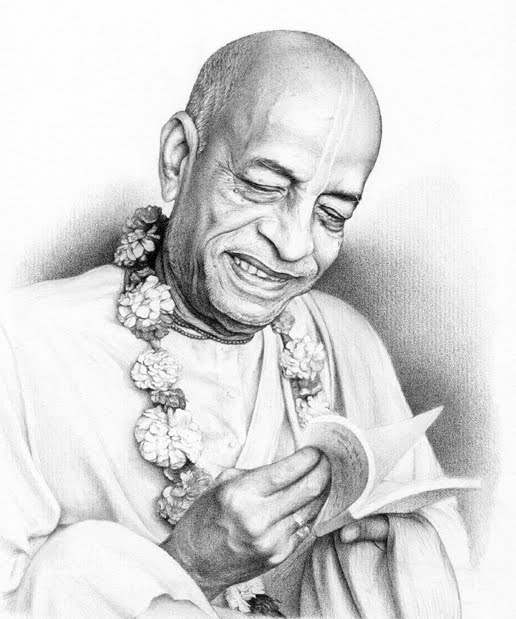 BACK TO GODHEAD is a monthly publication issued by the International Society for Krishna Consciousness (ISKCON). This publication is principally concerned with promulgating through the medium of essays, poems and articles the truths expounded by Lord Sri Krishna in the Bhagavad-gita and other Vedic texts. This magazine was founded by His Divine Grace A.C. Bhaktivedanta Swami Prabhupada, who is also the founder-acharya of ISKCON. Srila Prabhupada used to say that although Krishna and Rama took their births in India, they are not solely the "Property" of India or Indians any more than Christ is the "Property" of the Middle East. God and His truths know neither boundaries nor nationalities. Narrow sectarianism and ethnocentrism are only pitfalls on the path to liberation. God is neither Christian nor Jew, neither Moslem nor Buddhist nor Hindu—He is beyond all such designations. He is, in the Gita, Krishna, the Knower Who is not known, the Enjoyer, who, in His spiritual Kingdom, enjoys Bliss-Knowledge-Absolute.
True devotees of Krishna neither reason nor argue about Him. "He who replies to words of Doubt, Doth put the Light of knowledge out," wrote Blake. For the devotees, Krishna is an established fact. The devotees do, however, spread "Krishna consciousness" to others, to convince them of Krishna's existence through the science of devotion. Devotion to God is a "Yoga," a science, and it is to teach this science that Srila Prabhupada come to America. His method was simple: the chanting of the holy name of God, "Hare Krishna Hare Krishna Krishna Krishna Hare Hare Hare Rama Hare Rama Rama Rama Hare Hare" a sixteen-word chant prescribed by Lord Sri Chaitanya Mahaprabhu in the 15th and 16th centuries as being especially effective in this age of "Kali," an age characterized by atheism, ignorance, chaos, and disagreement.
Spiritual foods, dancing, singing and chanting the praises of the Supreme Lord, study of the Bhagavad-Gita and Srimad-Bhagavatam are all parts of this bhakti-yoga method. This method boasts such illustrious adherents as Brahma, Shiva, Laxmi, Kumara, Narada, Vyasadeva, Madhva, Chaitanya, Bhaktisiddhanta and Srila Prabhupada. As a confused mankind begins to enter into its third global war, it is the duty of those advanced in bhakti-yoga to speak out and educate the unenlightened.
It is partly with such quixotic intentions that Back to Godhead is being issued. Following the orders of his spiritual master, His Divine Grace Srila Bhaktisiddhanta Saraswati Goswami, Srila Prabhupada began the initial publication of Back to Godhead in 1944. This bi-monthly, published from 1944 to 1956 in Vrindaban, India (90 miles southeast of Delhi, was Krishna's playground during His stay on earth) established Swami Bhaktivedanta as the leading personalist in India.
The editors welcome suggestions, essays, poems, letters, and articles concerned with krishna-katha (topics).
Latest Indian Edition

February

2014

Latest Hindi Edition

February

2014
Latest Marathi Edition

February

2014

Latest Tamil Edition

February

2014
Latest International Edition January & February 2014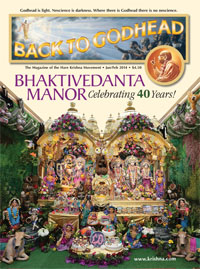 WELCOME In 1973, Piggots Manor near London became Bhaktivedanta Manor after George Harrison bought it for Srila Prabhupada and the International Society for Krishna Consciousness (ISKCON). That same year, during the celebration of Lord Krishna's appearance in this world fifty centuries ago, Srila Prabhupada conducted the installation of Sri Sri Radha-Gokulananda at the Manor. After offering the first arati to the deities, Prabhupada danced around Them in spiritual ecstasy, transporting his disciples to new levels of spiritual joy as the kirtana (chanting) of the Lord's holy names filled their hearts.
Now situated on eighty acres (originally seventeen), Bhaktivedanta Manor is a major pilgrimage destination in the UK. Seventy thousand people attended the 2013 two-day Janmashtami festival to the honor the appearance of Lord Krishna as well as Srila Prabhupada, whose birthday falls the day after Janmashtami.
Festival organizers recruited a group of photographers from the congregation to document the event. We especially thank photographer David Crick, who coordinated the photography and then sifted through thousands of photos to help BTG narrow down the final selection. We also thank Tattvavit Dasa, who wrote the captions and assisted greatly in other ways to put together the photo overview for this issue.
Hare Krishna. – Nagaraja Dasa, Editor
Subscribe to 64-page full-color glossy magazine published in the USA